Vincent (Starry, Starry Night)" Original Lyrics to Headline Auction Event and Celebration of the 50th Birthday of Folk Rock Icon's Musical Touchstone "American Pie" Featuring Collection of McLean's Guitars, Stage-Worn Clothing, Vintage Watches, Jewelry, Knives, Western Gear and More

Auction Exhibition Tour Stops at The Museum of Style Icons at the Newbridge Silverware Visitor's Centre, Newbridge, Co. Kildare, Ireland, October 6th-November 3rd and Hard Rock Cafe® New York November 7th – November 13th

A Portion of Proceeds to Benefit the Don McLean Foundation and "Kicking The Stigma," The Indianapolis Colts and Irsay Family's Mental Health Awareness Initiative

One of the Marquee Headliners of "Icons & Idols: Rock 'N' Roll"
Three-Day Auction Event November 11th, November 12th & November 13th at Hard Rock Cafe® in New York
NEW YORK, NY – Julien's Auctions proudly presents "PROPERTY FROM THE LIFE AND CAREER OF DON MCLEAN," an exclusive presentation of one of the most revered folk rock recording artists of all time, who's sold more than 50 million records worldwide, and a celebration of the 50th anniversary of his timeless classic, "American Pie." Headlining the event and appearing on the auction stage for the first time will be Don McLean's original lyrics of his classic hit single, "Vincent (Starry, Starry Night)," with an estimate of one million dollars. The auction featuring over 300 items from the personal collection of McLean from his homes in Garrison, New York, Camden, Maine, and Palm Desert, California will headline Icons & Idols: Rock 'N' Roll, the world-record-breaking auction house to the stars' three-day event, taking place Friday, November 11th, Saturday, November 12th and Sunday, November 13th live in Hard Rock Cafe® New York and online at juliensauctions.com.
It was also announced that a portion of the proceeds will go to the Don McLean Foundation, which contributes funds to underserved college students, homeless shelters and food banks in the state of Maine and throughout the country and "Kicking The Stigma," the Indianapolis Colts and the Jim Irsay family's national initiative to raise awareness about mental health disorders and to remove the stigma too often associated with these illnesses.


(photo left: "Vincent" lyrics and 1929 000-28 Martin guitar used exclusively on the Homeless Brother album and the hit single "Wonderful Baby").
Born October 2, 1945, Don McLean developed an early love for music listening to records and the radio at his family's home in New Rochelle, New York. While McLean gravitated towards popular artists from Elvis and Buddy Holly to Nat King Cole and Frank Sinatra, it was the music of the folk revival – which he discovered via the landmark 1955 live record album The Weavers at Carnegie Hall – that would leave the greatest impression on him as a songwriter, singer, and instrumentalist. As a teenager, McLean began making himself known in the folk music circle playing with the likes of Erik Darling and was eventually signed by Harold Leventhal Management, whose roster included celebrated folk artists such as Woody Guthrie and The Weavers and actor Allen Larkin. During the mid-60s, McLean became one of the young troubadour luminaries of the American folk music revival movement, performing at storied clubs and coffee houses across the country from The Bitter End and Gaslight Café in New York, the Newport Folk Festival, The Cellar Door in Washington, D.C., The Main Point in Philadelphia, the Troubadour and Ash Grove in Los Angeles and college campuses, and touring with Steppenwolf, Three Dog Night, Ten Wheel Drive, Blood Sweat and Tears, Lauren Nero and Pete Seeger, whom he joined with on the Sloop Clearwater as a crew member of the vessel that traveled up and down the east coast, performing concerts at each port they visited, sending an environmental message of distress to the nation.
In 1969, McLean scored his first Billboard Hot 100 singles, "Castles in the Air" with the flipside "And I Love You So," from his debut album Tapestry. "And I Love You So" became the most recorded song ever written by Don McLean with over 50 versions recorded. But it would be his next album American Pie that would rocket McLean's career as an international superstar with its titular single becoming a worldwide phenomenon and entry into the American lexicon. The mythic eight-minute-long song with its poetic phrase, "the day the music died," in reference to the tragic 1959 plane crash that took the lives of rock legends Buddy Holly, The Big Bopper, and Ritchie Valens, gave voice to his generation's disillusionment of American society and a loss of innocence as the tumultuous Sixties gave way to the uncertain Seventies. The smash hit single was Number One on the U.S. Billboard Chart for four weeks in 1972 and topped the charts in the UK, Australia, Canada, and New Zealand. The album was Number One in the UK for 7 weeks in 1972, and in the UK charts for 53 consecutive weeks.
(photo right: custom Nudie's shirt 1974 stage-worn in Amsterdam)
American Pie received Grammy nominations for Album of the Year, Best Pop Vocal Performance (Male), Record of the Year, and Song of the Year, and the album's second single "Vincent (Starry, Starry Night)," an emotional tribute to the artist Vincent Van Gogh, charted in the U.S. and the U.K., and ranked Billboard's Top 100 songs for the year. McLean was the inspiration of another classic hit single, "Killing Me Softly with His Song" by singer/songwriter Lori Lieberman, who recorded and released the song after watching McLean perform at the Troubadour in Los Angeles in 1971. Roberta Flack's 1973 version of the song was a Number One hit in the U.S., Australia, and Canada and charted in the UK Singles Chart, earning her Grammys for Record of the Year and Best Female Pop Vocal Performance in 1974. In 1996, the Fugees' version sung by Lauryn Hill on lead vocals went to Number One in twenty countries, earning them the Grammy for Best R&B Performance for a Duo or Group. Both versions by Roberta Flack and the Fugees were placed in Rolling Stone's 500 Greatest Songs of All Time list in 2021.
(photo left: "Garth Brooks Live from Central Park" Martin D-45 guitar).
Throughout the rest of '70s, McLean would sell-out concert shows worldwide famously performing at venues such as Albert Hall, Carnegie Hall, Sydney Opera House, and London's Hyde Park, recorded the albums Don McLean, Playin' Favorites, Prime Time, and produced his other classic hits "The Pride Parade," "Mountains of Mourne" and his rendition of Buddy Holly's "Everyday." His album Chain Lightning recorded in Nashville with backing vocals from Elvis Presley's Jordanaires, integrated country music into his diverse sound of rock and roll and folk, and produced the single "Crying" which rocketed to Number Five in the U.S. and Number One in the rest of the world. In the 1980s, McLean charted with "Since I Don't Have You," a new recording of "Castles in the Air," "It's Just the Sun" and released the 1987 country music album Love Tracks which produced the U.S. and Australia chart-toppers "Love in My Heart," "Can't Blame the Wreck on the Train," and "Eventually."
With the 1990s-2000s came a resurgence for McLean and the popularity of "American Pie" – as his signature song broke the U.K. Top Ten and led to several famous performances including Top of the Pops in 1991 and his appearance alongside Garth Brooks and Billy Joel before an audience of over a million in New York's Central Park. "Weird Al" Yankovic released his Star Wars-themed parody of "American Pie," "The Saga Begins," and in 2000, Madonna recorded a cover version of the song that charted Number One in both the U.K. and the U.S.
(photo right: Restitol brand 1980 photo shoot worn western hat).
In 2001, "American Pie" was voted one of the top five "Songs of the Century" by the Recording Industry Association of America and the National Endowment for the Arts whose list includes veritable landmarks, "Over the Rainbow" by Judy Garland, "White Christmas" by Bing Crosby, "This Land Is Your Land" by Woody Guthrie and "Respect" by Aretha Franklin. Don McLean was the only artist who wrote and sang his own song on that list. In 2002, the song was inducted into the Grammy Hall of Fame and in 2004, McLean himself was inducted into the Songwriters Hall of Fame. "American Pie" held the record as the longest song ever to reach Number One for almost 50 years until Taylor Swift's "All Too Well (10 Minute Version)" broke the record in 2021.


(photo left: Ricardo western spurs and right: Bohlin brand sterling silver buckle monogrammed with McLean's initials "DM")
In 2012, the life and career of McLean was celebrated in the PBS documentary film Don McLean: American Troubadour produced by four-time Emmy Award-winning filmmaker Jim Brown. Other achievements and accolades bestowed upon McLean include: a BBC Radio 2 Folk Awards Lifetime Achievement Award in 2012, the 2017 designation of "American Pie" as a "culturally, historically or aesthetically significant" sound recording in need of permanent preservation by the Library of Congress, the Recording Industry Association of America (RIAA) plaques for gold, platinum, and multi-platinum sales in the U.S. and seven other countries such as Australia, France, and the UK, a star on the Hollywood Walk of Fame and more.
McLean's musical discography has been recorded by artists such as Garth Brooks, Perry Como, Drake, Josh Groban, and George Michael and lionized in pop culture with the appearances of "American Pie" in the Avengers installment film, Black Widow and "And I Love You So" at Prince Harry and Megan Markle's wedding. In 2020, he released his new album, Still Playin' Favorites under his new contract at Time Life with whom he released 11 albums containing 173 tracks.
The 50th anniversary of "American Pie" coming this September 2022 has been feted with a new version of the song (recorded with the a cappella group Home Free) which held the Number One spot on the country music video charts, a new children's book, and a documentary from Paramount +: The Day the Music Died: The Story of Don McLean's American Pie, which explored the genesis and significance of McLean's signature song as well as the ongoing analysis and debate over its lyrics. In celebration of this milestone, McLean will embark on a world tour with an extensive run of concerts in the U.S., the UK, Scandinavia, and more.
Special exhibitions in Europe and the U.S. for the public to view highlighted items prior to the auction will be held at The Museum of Style Icons in Newbridge, Ireland from October 6th-November 3rd and at the Hard Rock Cafe New York November 7th-November 13th.
"Julien's Auctions is honored to present this esteemed collection of one of the most influential singers and songwriters of our time, whose artistic genius and poetry defined America, Don McLean," said Darren Julien, President/CEO of Julien's Auctions. "We are delighted to offer Mr. McLean's most precious artifacts and personal mementos from his illustrious life and career during this momentous occasion of the 50th anniversary of the release of his magnum opus, 'American Pie.""
Highlights announced today include (with estimates):
American Pie Album Cover-Worn Shirt ($3,000 – $5,000)
An important piece representing a key moment of Don McLean's storied career is this ribbed crimson shirt, worn on the front and back sleeve of his iconic 1971 album American Pie. In his autobiography Don McLean: American Troubadour, McLean reminisces about the day the cover shoot took place: "It was early 1971 and we were in the early stages of putting the elements for the second album together when Mediarts sent me out to Los Angeles to do some cover shots with George Whiteman, a fashion photographer, and portrait photographer. If I hadn't already known he was successful, the parade of models through his waiting room and the Rolls Royce Silver Cloud parked in his driveway would've told me. After we introduced ourselves, he said, 'Come on, let's go paint your thumb.'" Today the album is recognized for its cultural significance and enduring impact and for its iconic image of McLean donning the shirt and showing his hand with his thumb painted as the American flag held up.
First Stringed Instrument 1955 Gretsch Ukulele ($1,000 – $2,000) The first musical instrument ever owned by Don McLean, a Gretsch ukulele gifted to him by his parents for Christmas in 1955. The ten-year-old McLean had seen Arthur Godfrey playing a ukulele on television and decided it would be easy enough to learn to play since it only had four strings but wanted it to look more like a guitar. In his autobiography Don McLean: American Troubadour, he recalls customizing the ukulele: "I saved my money and went to the House of Music and bought a set of cheap guitar tuners, cut them in half, and screwed them on, very badly, on my Dad's workbench."
Tapestry Album Cover and Stage-Worn Mattress Ticking Cloth Shirt ($2,000 – $3,000) A blue and white striped shirt designed, created, and worn by Don McLean on the cover of his debut album Tapestry as well as stage-worn during multiple performances, including a live on-stage concert performance with folk legend Pete Seeger.
Solo Album Studio-Played and Stage-Played 1929 Martin 000-28 Guitar ($10,000 – $20,000) A 1929 Martin 000-28 herringbone acoustic guitar acquired by Don McLean in Santa Monica, California during the 1970s, and used exclusively by him c.1971-1975. Described by McLean as his "number one guitar for a long time," this beautiful vintage instrument was used extensively by McLean while touring in the U.K., including all of the recordings that would go into his 1976 first double live album, Solo, and during the recording of his 1974 fifth studio album, Homeless Brother.
Solo Album Cover-Worn Nudie's Shirt ($2,000 – $3,000) A custom dijon yellow Nudie's shirt, worn by Don McLean on the cover of his album Solo.
1974 Amsterdam Stage-Worn Nudie's Shirt ($2,000 – $3,000) A custom Nudie's shirt, stage-worn by Don McLean while performing live on-stage on February 15, 1974, at the Grand Gala in Amsterdam, Netherlands.
Carnegie Hall Stage-Played 1957 Martin D-28 Guitar ($7,000 – $9,000) A 1957 Martin D-28 acoustic guitar favored by Don McLean for special live performances throughout the 1980s, including during his appearance at Carnegie Hall backed by The Jordanaires.
Photoshoot Worn Cowboy Hat ($600 – $800) A tan felt Restitol brand western hat signed and worn by Don McLean during an April 1980 photoshoot at his home in Garrison, New York, with one of the photos later being featured on the cover of the piano/vocal/ guitar songbook titled The Songs Of Don McLean.
Don McLean Signed Custom Cowboy Boots ($600 – $800) A pair of custom-made western boots featuring a green toe, crown, and top trim, as well as a yellow shaft with a bird and floral design in blue, purple, and red. Signed "Don McLean" in black marker in the interior. Also written in the interior in red ink reads, "McLean," as well as "4" in black ink.
Vintage Ricardo Cowboy Spurs ($100 – $200) A vintage pair of Ricardo brand western spurs with Cowperson Tack brand leather straps, from the personal collection of Don McLean.
Gucci Sunglasses ($300 – $500) Don McLean owned and worn pair of Gucci brand GG0872S sunglasses with brass frames and green lenses.
Diamond and 14k Gold Ring ($1,000 – $2,000) A diamond and 14k gold ring, personally owned by Don McLean.
Bohlin Leather Belt with Monogrammed Sterling Silver Buckle ($300 – $500) An Edward H. Bohlin brand hand-tooled leather belt, studded with hearts and medallions and bearing a sterling silver buckle monogrammed with McLean's initials "DM."
Randall Brand Survival Knife ($400 – $600) A Randall brand model 14 knife with 7.5-inch blade with original leather sheath and sharpening stone.
Bohlin Sterling Silver "Cowboy Boot" Money Clip ($200 – $300) A Bohlin brand sterling silver money clip bearing a raised cowboy boot with spurs design with original pouch and box with paperwork.
Stage-Played "Garth Brooks – Live from Central Park" Martin D-45 Guitar ($7,000 – $9,000) A Martin D-45 acoustic guitar used extensively by Don McLean while on the road, including during his guest performance of "American Pie" to close the 1997 Garth Brooks free concert in Central Park, New York City.
Rolex Watch ($5,000 – $7,000) Don McLean's Oyster Perpetual Datejust wristwatch by Rolex.
Vintage Schwinn Jaguar Bicycle ($600 – $800)
Don McLean's original American-made Schwinn brand Mark II Jaguar bicycle in opalescent red.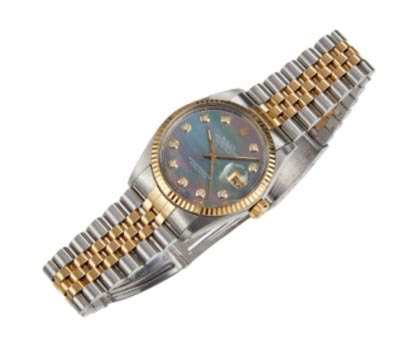 Songwriters Hall of Fame Gibson J-185 Guitar ($3,000 – $5,000) A 2004 Gibson J-185 acoustic guitar gifted to Don McLean when he was inducted into the Songwriters Hall of Fame that year.
Custom-Made Monogrammed Horse Saddle ($2,000 – $3,000) A hand-tooled leather horse saddle, custom-made for Don McLean by Dave Clowes of Dave's Saddle & Tack, bearing McLean's monogrammed initials on the seat back and each back corner with a matching pair of hand-tooled leather saddle bags, monogrammed with McLean's initials.
JULIEN'S AUCTIONS PUBLIC EXHIBITIONS
The Museum of Style Icons at Newbridge Silverware,
Athgarvan Road, Newbridge, Co. Kildare, IrelandW12 HT62
Exhibition: Thursday, October 6th-Thursday, November 3rd
Tickets: The exhibition is free to enter
Information: visitnewbridgesilverware.com/about-the-museum-of-style-icons
JULIEN'S AUCTIONS LIVE AND ONLINE AUCTIONS
Hard Rock Cafe New York
1501 Broadway-Times Square
New York, NY 10036
Monday, November 7, 2022 – Friday, November 13, 2022
Free to the public exhibition: 11:00 a.m. – 9:00 p.m. Eastern Time daily
Live and Online Auction
Icons & Idols: Rock 'N' Roll: Property from the Life and Career of Don McLean
Friday, November 11
Session I: 10:00 a.m. Eastern Time
Session II: 1:00 p.m. Eastern Time
Saturday, November 12
Session III: 10:00 a.m. Eastern Time
Session IV: 1:00 p.m. Eastern Time
Sunday, November 13
Session III: 10:00 a.m. Eastern Time
Session IV: 1:00 p.m. Eastern Time
Registering to Bid Registration is required to bid in this online auction and can be done in person at the exhibition, or online before the sale at the JuliensAuctions.com Registration page to bid by phone, proxy or in person, or online at JuliensLive.com to bid live online, or by calling (310) 836-1818. For inquiries, please email info@juliensauctions.com or call 310-836-1818.
Placing Bids
There are four ways to bid in Live Auctions:
• Bid with Julien's Auctions online and live-in real-time at JuliensLive.com or via our iPhone App.
• Bid over the telephone through an auction house representative.
• Bid in person in the room at our auction events
• Bid in advance by absentee bid. Absentee bid forms are printed in the back of each catalogue, and are also available by calling Julien's Auctions or online by visiting www.juliensauctions.com/register-to-bid.
THE MUSEUM OF STYLE ICONS AT NEWBRIDGE SILVERWARE
The Museum of Style Icons at the Newbridge Silverware Visitor Centre in Newbridge, Co. Kildare (Ireland) contains one of the most unique collections of fashion and cinema memorabilia in the world and welcomes over 350,000 visitors a year. The free-to-enter museum has several permanent exhibitions dedicated to design and style while celebrating some of the world's most iconic personalities from the worlds of fashion, film, and entertainment. Just some of the legendary stars of film and television known worldwide whose garments, fashion, and personal effects are on permanent display at the museum include Audrey Hepburn, Grace Kelly, Marilyn Monroe, Princess Diana, Elvis Presley, Elizabeth Taylor, The Beatles, Bob Dylan, Kim Kardashian, and many others. It is open 7 days a week and admission is free. For more see www.visitnewbridgesilverware.com or call +353 (0) 45 431301.
HARD ROCK®:
With venues in 76 countries spanning 262 locations that include owned/licensed or managed Hotels, Casinos, Rock Shops®, and Cafes – Hard Rock International (HRI) is one of the most globally recognized companies. Beginning with an Eric Clapton guitar, Hard Rock owns the world's most valuable collection of music memorabilia at more than 83,000 pieces, which are displayed at its locations around the globe. In 2018, Hard Rock International was recognized as a Forbes Magazine Top Employer for Women and Land Operator of the Year at the Global Gaming Awards. In 2019, Hard Rock International was honored as one of Forbes Magazine's America's Best Large Employers, Forbes Magazine's Top Employers for Women, and No. 1 in J.D. Power's 2019 North America Hotel Guest Satisfaction Study among Upper Upscale Hotel Chains. Hard Rock destinations are located in the world's greatest international gateway cities, including its two most successful flagship properties in Florida and home to the world's first Guitar Hotel® in South Florida, where its headquarters are located. The brand is owned by HRI parent entity The Seminole Tribe of Florida. For more information on Hard Rock International visit www.hardrock.com or shop.hardrock.com.
JULIEN'S AUCTIONS
Julien's Auctions is the world record-breaking auction house to the stars. Collaborating with the famous and the exclusive, Julien's Auctions produces high-profile auctions in the film, music, sports, and art markets. Julien's Auctions has received international recognition for its unique and innovative auction events, which attract thousands of collectors, investors, fans, and enthusiasts from around the world. Julien's Auctions specializes in sales of iconic artifacts and notable collections including Marilyn Monroe, John Lennon, Ringo Starr, Lady Gaga, Banksy, Cher, Michael Jackson, U2, Barbra Streisand, Les Paul, Neil Young, Elvis Presley, Frank Sinatra, Jimi Hendrix, Hugh Hefner and many more. In 2016, Julien's Auctions received its second placement in the Guinness Book of World Records for the sale of the world's most expensive dress ever sold at auction, The Marilyn Monroe "Happy Birthday Mr. President" dress which sold for $4.8 million. Julien's Auctions achieved placement in the Guinness Book of World Records in 2009 for the sale of Michael Jackson's white glove, which sold for $480,000 making it the most expensive glove ever sold at auction. In 2020, Julien's Auctions received its third Guinness Book of World Record placement for the sale of Kurt Cobain's "MTV Unplugged" 1959 Martin D-18E acoustic-electric guitar, which sold for $6 million making it the world's most expensive guitar ever sold at auction. Based in Los Angeles, Julien's Auctions has a global presence bringing their auctions and exhibitions to targeted destinations worldwide including London, New York, Las Vegas, Japan, and China. Live auctions are presented for bidders on-site and online via live streaming video and mobile technology. For more information on Julien's Auctions, go to juliensauctions.com. Connect with Julien's Auctions at facebook.com/JuliensAuctions or twitter.com/JuliensAuctions or instagram.com/juliens_auctions.